Categories » 'Interviews'
October 29th, 2019 by
Scott
https://www.scorpionsbrazil.net.br/p/scorpions-brazil-interviews-matthias.html
(Thank you David Araujo and Roberta Forster)
May 23rd, 2019 by
Scott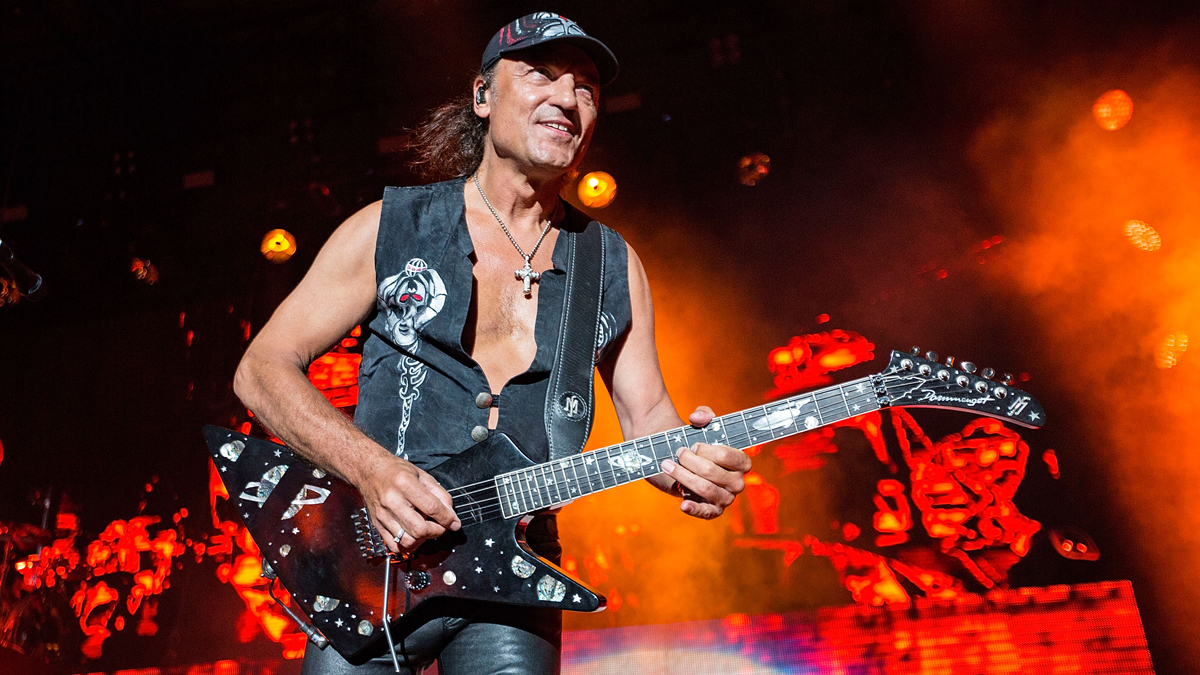 https://www.musicradar.com/news/scorpions-matthias-jabs-your-solos-dont-have-to-be-easy-to-play-but-they-have-to-be-easy-to-listen-to?fbclid=IwAR2_NujBConcXwUZumlFFvOjGyA8EZsswXoD5AvP0z-N8AyFNpXU9iDL430
Finally, how is new material coming along and when can we expect to hear it?
"Soon, I'm pretty sure… we started talking to a producer we would like to work with at the end of last year. We were supposed to have a meeting now, but it would have been too rushed, so it's been postponed.
"We are busy until the end of November, going from Europe to South America, then to Russia and other countries… so the plan is to record our next album early in 2020."
May 21st, 2019 by
Scott
SCORPIONS singer Klaus Meine has confirmed to Scorpions Brazil that the band has commenced the songwriting process for its new album.
The upcoming disc will mark the German hard rock legends' first release since 2017's "Born To Touch Your Feelings – Best Of Rock Ballads", which was an anthology of SCORPIONS' new and classic material.
SCORPIONS' last full-length collection of new recordings was 2015's "Return To Forever", partially comprising songs the band had in the vault from the '80s. It was the final recorded appearance of SCORPIONS' longtime drummer James Kottak, who was dismissed from the band in September 2016. He has since been replaced by Mikkey Dee, formerly ofMOTÖRHEAD.
Asked what he has been up to since the SCORPIONS played their last show in February, Klaussaid (hear audio below): "After all these many months of touring, I think everybody enjoys a little break and a little breather and to recharge the batteries. But then it's kind of long — we're not really used to this kind of long breaks. But as much as we enjoyed it, the good thing is that when we left the last show earlier this year in Cyprus, we said, at some point, before we go back on the road, it would be nice to go back into the studio and maybe start writing a couple of new songs.
"When Rudolf [Schenker, guitar] came back from Thailand and we all came back together, just a couple of weeks ago, actually, we went straight into the studio, and it was fantastic," he continued. "We had such a good time, and there were plenty of ideas. It was a really good vibe to work without big pressure or anything — just come back together, write a couple of songs, enjoy some time in the studio. And it really turned out really good and in a very positive way. Because we hadn't been in the studio for quite a while, so it was a very positive experience. Actually, for me, I really would have loved to keep going at this point. I was in the studio just right now working on some stuff, and I was taken away, not being in the world of interviews. I was out there in the world of creativity, world of writing some new stuff.
"It's really amazing that I guess all of us really enjoy this part of creativity and coming back together without really expecting too much — just to let it flow," Klaus added. "And it was really great. And I would have loved if we could keep going, because we just have a great flow. But knowing that we go back on the road soon — in June — there's just limited time right now.
"If somebody would ask me the question, 'Is there a chance for a new album?', the chance is much bigger now than it was just a couple of weeks ago. But we will be back on the road soon. And I guess we don't have a chance to go back working on new songs really before the end of the year or early next year. But there's a good feeling in the SCORPIONS camp there might be a new album out in 2020… We are pretty much on the road until the end of this year. And since it will start in June, there is just limited time now. It's just a very positive experience, and it feels like such a great start with songwriting; we recorded some demos and stuff. So it really feels good; we're in a good way to come up with something next year."
Last fall, Schenker told Headbangers Lifestyle that SCORPIONS have tapped "a famous and well-known" producer to helm the band's new LP. He added: "We are all very excited to produce a new, historic rock 'n' roll album."
August 14th, 2018 by
Scott
Klaus Interviews- http://southtexassoundproject.com/2018/08/26/exclusive-interview-with-klaus-meine-legendary-lead-singer-of-the-scorpions/
Klaus open to a new studio album interview- http://www.blabbermouth.net/news/scorpions-klaus-meine-is-open-to-making-another-studio-album/
Rudolf Interview- www.blabbermouth.net/news/scorpions-guitarist-we-are-still-waiting-for-a-moment-for-inspiration-to-do-another-album/
http://ultimateclassicrock.com/scorpions-lemmy-motorhead-overkill/
Matthias Interviews- https://www.youtube.com/watch?v=TJxNezAW8Mo&feature=share
https://omny.fm/shows/rock-talk-with-mitch-lafon/scorpions-glenn-hughes-and-tower-of-power
https://www.kozzradio.com/2018/08/13/mathias-jabs-of-the-scorpions-on-kozzs-big-hairy-library/
https://www.iheart.com/podcast/53-The-Bob-and-Coe-Show-28286906/episode/scorpions-lead-guitarist-matthias-jabs-calls-29775191/
https://937theriver.iheart.com/featured/monica-lowe/content/2018-08-29-scorpions-matthias-jabs-interview-with-monica-lowe/
https://www.kdot.com/2018/08/29/matthias-jabs-talks-us-tour-kick-off-in-lake-tahoe/
Scorpions Guitarist Matthias Jabs Talks Upcoming Amalie Arena Show And More
January 26th, 2018 by
Scott
German axe-alchemists Scorpions are in a happy and heavy place these days, having just added tank of a drummer Mikkey Dee to the band's ranks, giving the live show a shot in the arm that bodes well for the next record. But right now the guys are in pause mode, touring, yes, but also biding their time with a new compilation called Born to Touch Your Feelings: Best of Rock Ballads. Something old, something new, the album offers twists at every turn. Just when you get comfortable, here comes a new acoustic version, a Comeblack version, something from Face The Heat or a radio edit or something from the Unplugged.
Full Interview-http://bravewords.com/features/scorpions-not-only-can-we-rock-really-hard-we-can-also-go-deep-down-into-the-emotions
December 9th, 2017 by
Scott
Guitarist Matthias Jabs and drummer Mikkey Dee of SCORPIONS stopped by the "Nights With Alice Cooper" video studio in September to talk about life on the road, new music, a special tribute to the late Lemmy of MOTÖRHEAD, and much more. Check out the chat below.
Asked about the status of SCORPIONS' next studio album, Jabs said: "We couldn't record anything before next year, 2018. We are on the road until December 10th, and that means before Christmas, nobody's gonna do anything in the studio. So we take a break and then we have to write songs.
"The tour is the best inspiration for songs anyway — especially with the SCORPIONS," he continued. "We play 82 countries on this planet, so we are everywhere… We played in Asia last year extensively, Australia… We played all over Europe already this [past] summer. We meet so many different people, and it's always a great inspiration for new songs. So I don't think we have a problem writing good material for next year."
November 3rd, 2017 by
Scott
Moscow Setlist:(1:39:21)
Going Out With a Bang
Make It Real
The Zoo
Coast to Coast
Top of the Bill / Steamrock Fever / Speedy's Coming / Catch Your Train (70's medley)
We Built This House
Delicate Dance (Matthias Jabs solo)
Always Somewhere / Eye of the Storm / Send Me an Angel (Acoustic medley)
Wind of Change
Rock 'n' Roll Band
Overkill (Motörhead cover)
Drum Solo by Mikkey Dee
Blackout
Big City Nights
Encore:
Still Loving You
Rock You Like a Hurricane
SCORPIONS entire November 1 concert at Olimpiyskiy Arena in Moscow, Russia can be seen below.
Documentary of the Scorpions Show in Moscow
Thank You Moscow
October 20th, 2017 by
Scott
German hard rock veterans SCORPIONS will release a new compilation album, "Born To Touch Your Feelings – Best Of Rock Ballads", on November 24. The effort will include fourteen of the band's most famous ballads plus three new songs which were recorded this past summer.
Says the band: "We have put our most beautiful and legendary ballads on a brand new album and are topping it off with three brand new songs: 'Follow Your Heart', 'Always Be With You' and 'Melrose Avenue'. The album also includes a new acoustic recording of 'Send Me An Angel'. Additionally, we're going back to our roots with a brilliant cover photo by the legendary photographer Ellen von Unwerth. After the super-realistic art of Gottfried Helnwein ('Blackout') or Helmut Newton's legendary photo on the cover of 'Love At First Sting', this outstanding photo by Ellen will be worth its weight in gold."
"Born To Touch Your Feelings – Best Of Rock Ballads" track listing:
"Born To Touch Your Feelings " (MTV Unplugged Studio Edit)
"Still Loving You " (Comeblack Version)
"Wind Of Change " (Comeblack Version)
"Always Somewhere " (2015 Remaster)
"Send Me An Angel " (New Acoustic Version 2017)
"Holiday " (2015 Remaster)
"Eye Of The Storm " (Radio Edit)
"When The Smoke Is Going Down " (2015 Remaster)
"Lonely Nights "
"Gypsy Life "
"House Of Cards " (Single Edit)
"The Best Is Yet To Come "
"When You Came Into My Life " (MTV Unplugged Studio Edit)
"Lady Starlight " (2015 Remaster)
"Follow Your Heart " (New Full Band Version 2017)
"Melrose Avenue " (New Song)
"Always Be With You" (New Song)
Born To Touch Your Feelings(Trailer)
Message from Klaus Meine
October 4th, 2017 by
Scott
In a new interview with AZCentral.com, Scorpions guitarist Matthias Jabs discusses his fateful audition for the band, their first US tour with Ted Nugent, surviving the '90s and why he doesn't see another farewell tour on the horizon. Read an excerpt below:
Q: You've been opening shows with "Going Out With A Bang", which also opens your most recent album. Does it feel like a late-career signature song for Scorpions?
A: "Yeah. I mean, first of all, it's a great opening song and a song from the latest release. And not too many bands can say that they have a relatively new album on the market while celebrating their 50th anniversary. It's 52 years for us. And of course it won't go on forever but after announcing the farewell tour in 2010 and playing around the world for two years, we noticed during that tour, really, that the announcement came way too early and we are still having too much fun. The fans don't want to let us go. The promoters don't want to let us go. We get offers now for 2019 and it's hard to say, "Yes, guaranteed, we will be there." We are a bit more careful about all decisions regarding the future. But so far, it's all very good. We are in great shape. The shows go very well."
Q: You mentioned the farewell tour. When you decided to do that, did it feel like you could walk away from it?
A: "It was all influenced a bit by the manager we had at the time. We were asking each other, while traveling a couple weeks into the tour, 'Who had the idea?' And we found out nobody in the band had the idea. I was thinking, 'OK, my colleagues are a bit older than I am, seven to eight years.' But I was asking and, 'No, not me.' We found out it was more pushed by the manager. We thought, rationally, it might be a good idea to say "bye bye" while we were still in the best shape, leave the scene with the best impression and be remembered as a band that runs around like crazy. But seven years later, that still goes as well. We still run around like crazy.  And we don't look that much different. So we postponed the end of everything and now we don't know. We learned also that there is no point in saying, 'This is the very last concert!'"
Read the full interview at AZCentral.com.
Scorpions, with special guests Megadeth, are out on the Crazy World North American tour. Remaining Tour Dates below:
October
4 – Oracle Arena – Oakland, CA
7 – The Forum – Inglewood, CA
8 – Talking Stick Resort Arena – Phoenix, AZ
11 – Freeman Coliseum – San Antonio, TX
12 – Pavilion at the Music Factory – Irving, TX
14 – BB&T Center – Sunrise, FL
15 – Amalie Arena – Tampa, FL, US