Categories » 'Interviews'
July 8th, 2020 by
Scott
Talking Metal 879 Klaus Meine of Scorpions and Udo and Sven Dirkschneider of U.D.O.
Klaus interview starts at 9:15
On this episode of Talking Metal, Mark Strigl interviews Klaus Meine of Scorpions.
The interview is with Klaus and topics include the new song Sign of Hope, the new music the band is working on, the song the Zoo, Madison Square Garden, the band's future touring plans, working with Roger Waters, Bon Jovi, tennis and much more.
July 6th, 2020 by
Scott
Scorpions Frontman & Rock Legend Klaus Meine promoting New Song "Sign of Hope," talks about Covid-19, New Album Challenges, Songwriting Process, Touring, Mikkey Dee, his vocals, thanks 1st responders, thanks publicist Jody Best and so much more!!!
July 1st, 2020 by
Scott
Pollstar took a close look at the incredible career of the Scorpions, which came out of West Germany in the late 1960s and conquered the world "one sting at a time."
It's an incredible 55-year history that would require several books to be told in all detail. We focused on the live milestones, like the Scorpions' first concert in North America at the "World Series of Rock" in 1978; the 1983 US Festival, where some 300,000 fans saw the Scorpions steal the show; the Moscow Music Peace Festival in 1989, also known as the Russian Woodstock, and many more.
The band has sold more than 100 million records to date, which makes them the most successful rock band of Continental Europe.
We sat down with front man and vocalist Klaus Meine, lead guitarist Matthias Jabs and Scorpions founder Rudolf Schenker for the latest installment of the Pollstar Live! Digital Sessions series of interviews – to delve a bit deeper into some of the most significant moments in the band's career, and to find out how the production of their 19th studio album is going in times when the band cannot meet LA-based producer Greg Fidelman in person.
Check out the full interview below.
https://www.youtube.com/watch?v=y-GPYpchlik&feature=emb_logo
June 30th, 2020 by
Scott
Rock Talk With Mitch Lafon… and Alan Niven present legendary Scorpions' frontman, KLAUS MEINE (recorded June 2020) Klaus discusses the band's latest single SIGN OF HOPE as well as working on a new heavier album with (Metallica/Slipknot) producer Greg Fidelman, revisiting older demo songs for the new album, the importance of adding Mikkey Dee to the lineup, working with Desmond Child and vocal coach Eric Vetro on Humanity: Hour 1, being re-energized to continue after the Farewell tour, the 40th Anniversary of Animal Magnetism and much more. Plus, one incredible fan boy geek question… QUOTE: "It's great to have Greg Fidelman (Metallica/Slipknot) on our side. From the very beginning we said, if we make a new album it's got to be on the harder edge. It's got to be an album with attitude. It's got to take us back to the '80s – where we had many many big songs and big albums like Lovedrive, Animal Magnetism, Blackout and all that stuff. It was just to try to focus on that kind of vibe. If we can pull this off after so many years, I don't know. All I know is we started writing last year and we have lots and lots of material. What I hear everyday in the studio feels really good… we're on the right direction; the right track. We work on an album and we try to really go back to the Scorpions DNA from those years. It's crazy to think about making a new album, but we're totally in sync with Greg Fidelman. We want to go to this old vibe… After so many many years and decades to go back into the studio to work on an album and to write new material; I think it's a blessing that we don't sit here at home watching the grass grow. It's so much in our veins to travel, to play shows… It feels so good to go deep into your creative world and create new material, new songs… That feels really really good."
October 29th, 2019 by
Scott
https://www.scorpionsbrazil.net.br/p/scorpions-brazil-interviews-matthias.html
(Thank you David Araujo and Roberta Forster)
May 23rd, 2019 by
Scott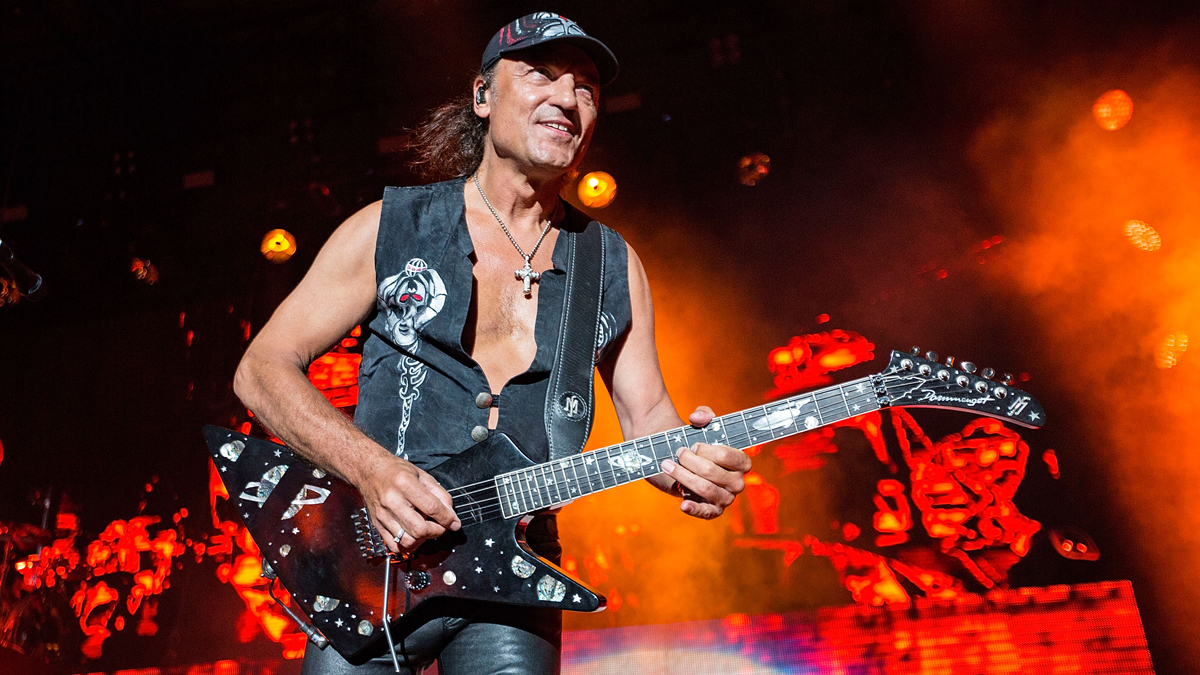 https://www.musicradar.com/news/scorpions-matthias-jabs-your-solos-dont-have-to-be-easy-to-play-but-they-have-to-be-easy-to-listen-to?fbclid=IwAR2_NujBConcXwUZumlFFvOjGyA8EZsswXoD5AvP0z-N8AyFNpXU9iDL430
Finally, how is new material coming along and when can we expect to hear it?
"Soon, I'm pretty sure… we started talking to a producer we would like to work with at the end of last year. We were supposed to have a meeting now, but it would have been too rushed, so it's been postponed.
"We are busy until the end of November, going from Europe to South America, then to Russia and other countries… so the plan is to record our next album early in 2020."
May 21st, 2019 by
Scott
SCORPIONS singer Klaus Meine has confirmed to Scorpions Brazil that the band has commenced the songwriting process for its new album.
The upcoming disc will mark the German hard rock legends' first release since 2017's "Born To Touch Your Feelings – Best Of Rock Ballads", which was an anthology of SCORPIONS' new and classic material.
SCORPIONS' last full-length collection of new recordings was 2015's "Return To Forever", partially comprising songs the band had in the vault from the '80s. It was the final recorded appearance of SCORPIONS' longtime drummer James Kottak, who was dismissed from the band in September 2016. He has since been replaced by Mikkey Dee, formerly ofMOTÖRHEAD.
Asked what he has been up to since the SCORPIONS played their last show in February, Klaussaid (hear audio below): "After all these many months of touring, I think everybody enjoys a little break and a little breather and to recharge the batteries. But then it's kind of long — we're not really used to this kind of long breaks. But as much as we enjoyed it, the good thing is that when we left the last show earlier this year in Cyprus, we said, at some point, before we go back on the road, it would be nice to go back into the studio and maybe start writing a couple of new songs.
"When Rudolf [Schenker, guitar] came back from Thailand and we all came back together, just a couple of weeks ago, actually, we went straight into the studio, and it was fantastic," he continued. "We had such a good time, and there were plenty of ideas. It was a really good vibe to work without big pressure or anything — just come back together, write a couple of songs, enjoy some time in the studio. And it really turned out really good and in a very positive way. Because we hadn't been in the studio for quite a while, so it was a very positive experience. Actually, for me, I really would have loved to keep going at this point. I was in the studio just right now working on some stuff, and I was taken away, not being in the world of interviews. I was out there in the world of creativity, world of writing some new stuff.
"It's really amazing that I guess all of us really enjoy this part of creativity and coming back together without really expecting too much — just to let it flow," Klaus added. "And it was really great. And I would have loved if we could keep going, because we just have a great flow. But knowing that we go back on the road soon — in June — there's just limited time right now.
"If somebody would ask me the question, 'Is there a chance for a new album?', the chance is much bigger now than it was just a couple of weeks ago. But we will be back on the road soon. And I guess we don't have a chance to go back working on new songs really before the end of the year or early next year. But there's a good feeling in the SCORPIONS camp there might be a new album out in 2020… We are pretty much on the road until the end of this year. And since it will start in June, there is just limited time now. It's just a very positive experience, and it feels like such a great start with songwriting; we recorded some demos and stuff. So it really feels good; we're in a good way to come up with something next year."
Last fall, Schenker told Headbangers Lifestyle that SCORPIONS have tapped "a famous and well-known" producer to helm the band's new LP. He added: "We are all very excited to produce a new, historic rock 'n' roll album."
August 14th, 2018 by
Scott
Klaus Interviews- http://southtexassoundproject.com/2018/08/26/exclusive-interview-with-klaus-meine-legendary-lead-singer-of-the-scorpions/
Klaus open to a new studio album interview- http://www.blabbermouth.net/news/scorpions-klaus-meine-is-open-to-making-another-studio-album/
Rudolf Interview- www.blabbermouth.net/news/scorpions-guitarist-we-are-still-waiting-for-a-moment-for-inspiration-to-do-another-album/
http://ultimateclassicrock.com/scorpions-lemmy-motorhead-overkill/
Matthias Interviews- https://www.youtube.com/watch?v=TJxNezAW8Mo&feature=share
https://omny.fm/shows/rock-talk-with-mitch-lafon/scorpions-glenn-hughes-and-tower-of-power
https://www.kozzradio.com/2018/08/13/mathias-jabs-of-the-scorpions-on-kozzs-big-hairy-library/
https://www.iheart.com/podcast/53-The-Bob-and-Coe-Show-28286906/episode/scorpions-lead-guitarist-matthias-jabs-calls-29775191/
https://937theriver.iheart.com/featured/monica-lowe/content/2018-08-29-scorpions-matthias-jabs-interview-with-monica-lowe/
https://www.kdot.com/2018/08/29/matthias-jabs-talks-us-tour-kick-off-in-lake-tahoe/
Scorpions Guitarist Matthias Jabs Talks Upcoming Amalie Arena Show And More