Scorpions with Queensryche USA 2018 Tour Dates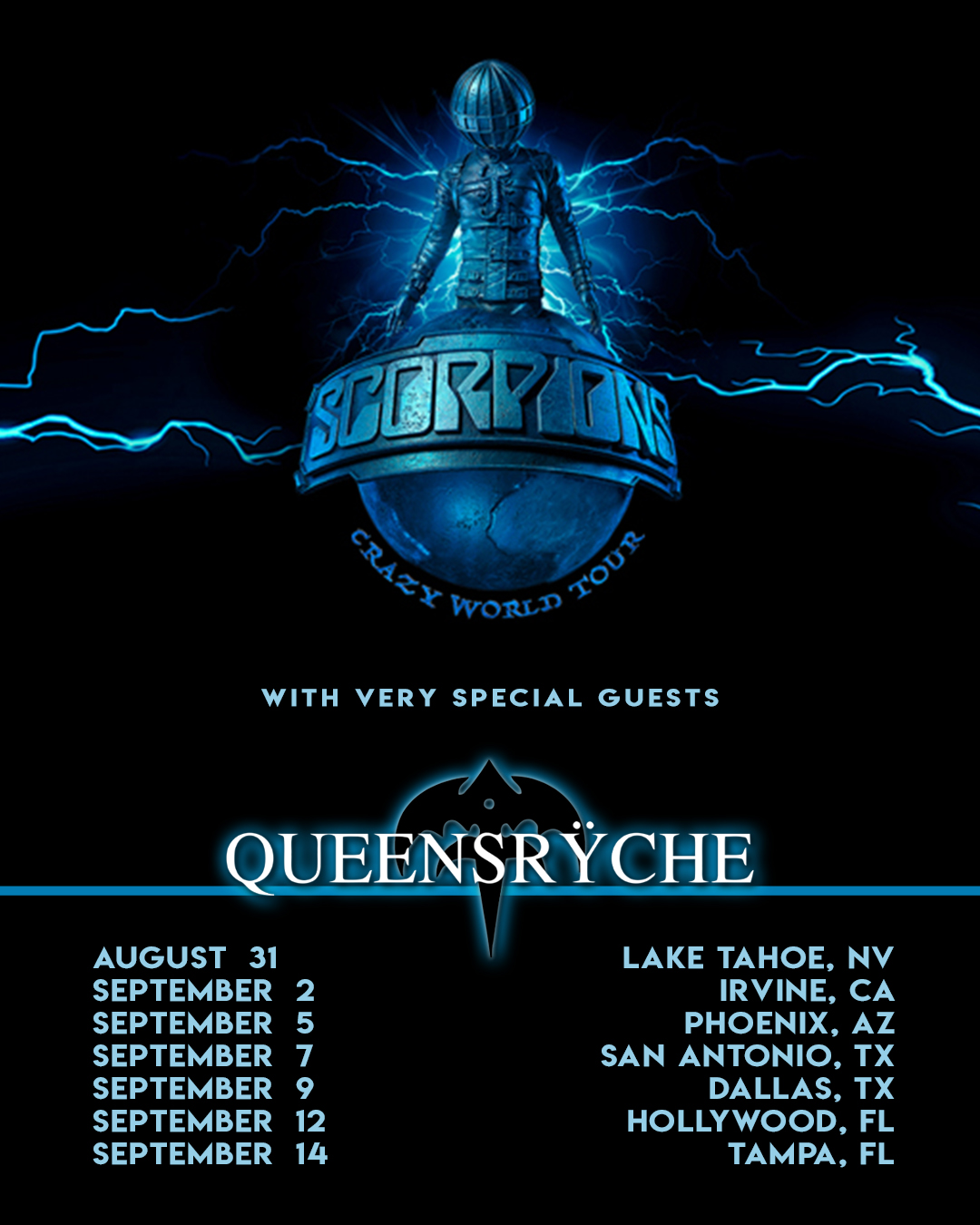 Scorpions, one of the most iconic and influential hard rock bands of all time, will return to America on August 31st to kick off rescheduled tour dates in Phoenix, San Antonio, Dallas, Tampa, and Hollywood, FL, as well as adding two new stops in Lake Tahoe, NV and Irvine, CA. Joining the Scorpions on these US dates will be Queensrÿche.
The full schedule is listed below. General tickets and VIP packages are on sale here.
August
31 – Lake Tahoe, NV – Harvey's Lake Tahoe(7:30pm)(Capacity-7,500)
September
2 – Irvine, CA – Five Point Amphitheatre(7:30pm)(Capacity-12,000)
5 – Phoenix, AZ – Comerica Theatre(7:30pm)(Capacity-5,000)
7 – San Antonio, TX – Freeman Coliseum(8pm)(Capacity-11,700)
9 – Dallas, TX – Pavilion at the Music Factory(7:30pm)(Capacity-8,000)
12 – Hollywood, FL – Hard Rock Event Center(8pm)(Capacity-5,500)
14 – Tampa, FL – Amalie Arena(8pm)(Capacity-11,000)
Message from Klaus Meine:
"I am extremely happy to announce that the Scorpions have rescheduled all the remaining American dates that we were forced to cancel last fall due to my severe laryngitis. I was so overwhelmed with all the love and well wishes from our fans when we had to cancel, that the band and I were determined to get back to the US to make these dates up to our loyal and dedicated fans. I am also happy to say that Queensrÿche will join us as well for these Crazy World shows! We look very much forward to seeing you out there and get ready to ROCK!,"
Concert Promo Video- https://www.youtube.com/watch?v=UpOx-qk2yio